T3rmin4t0rz-Set Profile Background
-= t-3-r-m-i-n-4-t-0-r =-
T3rmin4t0rz profile background changing tool
-------------
How to use:
-------------
Step-1: Login to wap.mig33.com
Step-2: There Goto "Profile"
Step-3: Copy the URL of the Image which you want to set as Background. See the following snapshot For help.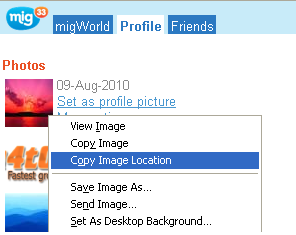 The Image URL will be look like:
http://img.mig33.com/c6278a7c6b6a4e7898b460feac2a0abe?w=4
8&h=48&c=1&a=1
Now Open T3rmin4t0rz profile background changing tool. Login Your ID.
Paste the Copied URL code (Like: c6278a7c6b6a4e7898b460feac2a0abe)
and Click On "SET PROFILE PIC" Button.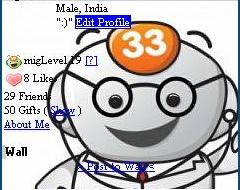 NOTE: Choose image of less dimension, otherwise your Mig33 can be hang.
>>> Reply First 2 Get Da Link <<<
Download From Here::